Dear teachers and students of the Academy!
Our Academy is one of the leading universities of our country. Our school prepares health professionals of the highest level.
"Information Science and Biophysics" is one of the leading departments of  the Tashkent Medical Academy. In our department future doctors are studying computer  science and information technology, biophysics, medical equipment.
As you know, the twenty-first century is the century of intellectual wealth. Not to be left outside world progress should strive for knowledge. In modern conditions it is impossible to speak of progress without the development of science.
Our department also as an opportunity to make a contribution to the development of science. In our department have doctors PhD – leading experts in their fields.
At the department a lot of attention is paid to the scientific work of students. They have repeatedly won prizes in the competition "Kelajak Ovozi" organized by the youth organization "Kamolot".
The site of our department, you can find out information about employees, read the story department, to learn in detail about the subjects studied in our department. In addition, we have a detailed report on the research activities, photo-video gallery, E-magazine, the screen performance. The information is provided in three languages.
We wish you every success and look forward to your interest in our website.
---
Location: Department of Informatics and Biophysics: 2-educational building, 4th floor. TMA
---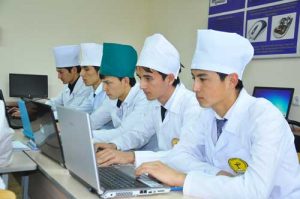 UNDERGRADUATE
> Medical faculty;
> Vocational training (Medical-pedagogical faculty);
> Medical-Prophylactic Faculty;
> Medical-Biological Faculty;
> Faculty of Higher Nursing;

---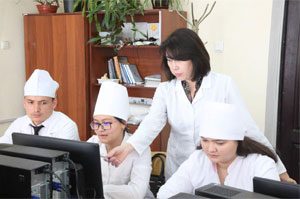 EDUCATIONAL WORK
> Schedule;
> Questions of ON/YN;
> Situational issues;
> Test questions.
---

METHODICAL WORK
> Practical exercises;
> Lectures;
> Educational complexes;
> Tutorials;
> Textbooks;
---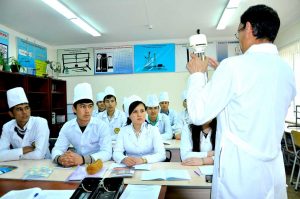 RESEARCH WORK
> Scientific articles;
> Scientific theses;
> Educational-methodical complexes / programs;
> Published textbooks and manuals.
---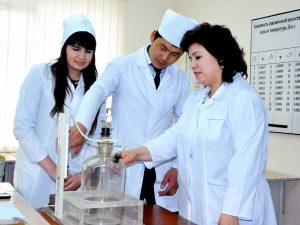 LABORATORY WORK
> Practical skills list;
> Medical techniques;
> Video clips;
> Sounds;
---

STUDENT'S CIRCLES
At our department there are special preparatory courses for students studying at the Tashkent Medical Academy, interested in areas of informatics and biophysics. These courses provide additional in-depth training to improve the knowledge of future qualified medical professionals. Further information on these courses is provided below.